I've always thought 'stranger danger' is a stupid thing to teach children. I think that kind of conditioning and learned paranoia has been a contributing factor to the less trusting, more private, and generally less friendly world we live in today. Where did it even come fro–.
You know what, I don't care.
When it comes to tabletop gaming I think it should go away. Store and Convention Gaming would not exist exist without talking to strangers. Making friends at a convention with thousands of people, in a gaming store, or even doing what I do – sitting down at a table with stranger who have hired me to roll dice with them would all be totally impossible. At some point you have to talk to strangers. I actually enjoy it. There is an earlier episode of the Simpsons episode "A Streetcar Named Marge", that has the line "A stranger is just a friend you haven't met." This line, while more a parody of A Streetcar Named Desire, is actually fairly accurate in the tabletop gaming world.
Tabletop Gaming is one of those occasions where the table you run may be filled with only strangers; you may know no-one at your table. By the end of the two to four+ hours that table you have made at least one friend, and the rest are bumped into the acquaintance category.
I met most of my players in both the Loose Endz and SkyFyre Comics podcasts at a table not knowing who they were the first time we played. The Loose Endz crew were invited to my home and the SkyFyre Comics gang were met through an in-store game. Now I am confident calling them all friends. Had I followed the "don't talk to strangers" rule I never would have met them, let alone have the balls to go to a convention like GenCon where there are 70,000 strangers. The guys from The Commentist Network were strangers when I first started listening to their podcasts. One day I began tweeting and direct messaging them, then I started running games for them via Google Hangouts, then joined their network with my own podcasts, and next year I'm a groomsman for one at his wedding.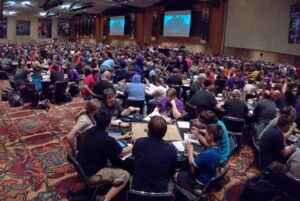 When I think about it every great thing that happened in may gaming career (GaymerX, D&D Adventurers League, Podcasts, Gaming at Conventions, even this venture of professional GM) has happened because I reached out to strangers.
You don't have to talk to everyone all the time. Nor would you simply assume you're going to be friends with everyone all the time. There are caveats. There are people who are twisted or ill and can be harmful to others. Instead of Stranger Danger maybe just Stranger Awareness, be aware of where you are, don't go to someones house if you don't like the vibe, ask to meet in a public place first. I offer to meet anyone who wants to play with me a chance to meet first so they feel more comfortable. Partly because it is a courtesy since I will be charging them and they want to see that I am worth the money, and partly so I can get a vibe. Just don't be afraid to say hi, or to approach people.
You never know, you might find a new gaming group and friends.