In Vancouver? LGBTQIA2+ or an ally, and looking for somewhere to go to play games in a safe and fun encouraging environment? Have I got the event for you!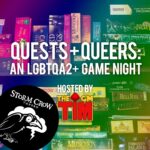 Once a month at both the Storm Crow Tavern on Commercial and Storm Crow Alehouse on Broadway, I host Quests & Queers! Q&Q is a gaymer (meant as an all inclusive word) night for people who might want to just be around other queer people, who might want to meet more people outside of the typical events, or feel a bit awks about going out on other nights.
Come have some drinks (I love rolling for shots), eat some food (I happen to know the chic pea fries are great), play some board games, meet or bring friends! I'm there to make you feel welcome and as included as you wish to be. If you have
a group I can help you learn some games, if you are flying solo I can set you up with some players.
The next few dates for the both venues have been set! Each date is a link to the Facebook event!
AlLEHOUSE – TUESDAY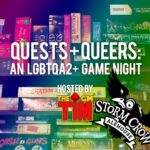 TAVERN – TUESDAY
Sign up to get my bi-weekly Newsletter (scroll down on the website menu) that will send reminders about the next event regardless where it is (along with the other nifty stuff I am doing like new blog posts or roleplaying games), or you can follow me on Twitter, Instagram, or Facebook.
Cant wait to see you there!
Happy Gayming